Monday, October 29, 2007
Yet Another Gratuitous Picture of Jake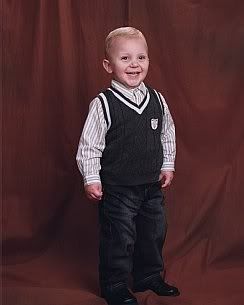 From the picture to the right, three things are very apparent:
My little boy is growing up quickly.
At 19-months, he is bigger than most 3-year olds.
He's got a beautiful momma at home.
Monday, October 22, 2007
The answer is: Time and Money
The question is, of course,"What are two things that I never seem to have enough of?"
I know that I am not alone on this topic, but man, this is depressing. I remember when I was a young fella, I always seemed to have plenty of both. At least it seemed that way.
And when I think about it, I should have had much, much less.
I certainly make more money than I did when I was in my 20s, but I always seem to be broke these days. I used to make about $300 a week but I always had some cash in my pocket and all of my bills got paid. Now, the only thing in my pock is lint.
And I used to work two jobs while going to school full time, but I still had a social life and actually had time to go to the gym almost every day.
So what changed?
I think that I know.
I moved out of mom and dad's place, got married and had a child. These factors explain the lack of both money and time in my life.
Now I wouldn't trade my family for a few extra bucks and a little "me time", but I would think that there has to be a way to have it all. Right?
Well, got any suggestions?
Tuesday, October 16, 2007
Things of Which I Have Grown Tiresome
Tanya Roberts pimping resort destinations in Orlando and Las Vegas.
Tim McCarver
My 75-minute each way commute to work
Criticism of any Presidential candidate's wife
The New York Yankees/Joe Torre saga
Chad Pennington's inability to throw the ball downfield
Christmas displays in stores. (And its only October!)
Cavemen
Paris/Lindsay/Britney, etc.
Paying $13 for 4 refill cartridges for my razor
The love affair that all sportscasters have with the Colorado Rockies
Never being able to find organic milk in gallon containers
I'm sure that there are more, but that's all I have for now. Feel free to add to this list...
Thursday, October 11, 2007
Blah!
My son has croup and I had whatever the adult equivelant of croup is. I was miserable for a few days, but now I am feeling much better. As for Jake, he is on some prescriptions and seems to be rounding the corner. I think that he will be fine by the weekend.

Of course he caught croup in the same place that he catches every cold; the church nursery. It seems like everytime that we put him in there he comes home with the sniffles. Some people just don't understand the concept of staying home when a child is sick. Not only for their benefit, but for the benefit of everyone else they may come in contact with.

I have decided to get into better shape. You see, I have what doctors might call a little bit of a weight problem. Anyway, I started today by having a salad for lunch. Granted it was a salad topped with cheese, bacon, fried chicken and blue cheese dressing, but it was a salad nonetheless. Baby steps, people. Baby steps.

Subscribe to Posts [Atom]