Monday, October 30, 2006
Reports of my demise have been greatly exaggerrated
.comI should probably be arrested for blog abandonment, but I have a good excuse. I've just been really, really busy lately. Sounds familiar, eh? Anyway, here is a quick update of all that is going on in Flounder's world right now:
We have bought a house in RI, and we are closing on it Dec. 4th. It's a fixer-upper, but we got an awesome deal and it will be a freaking palace when I'm done with it. (Many pics to come) It's right around the corner from one of our closest friends and my BBQ buddy Morgan. We are all geeked up for the move!
We have been steady working on our house to get it ready for sale. There is a 30-yard dumpster behind the house that will be filled with roof shingles and a bunch of crap from inside the house by next Monday. Thank God that I have some awesome friends that are handy and willing to help me get it ready. More on this later…
My Uncle Gene died today from cancer. I didn't really know him very well and haven't seen him since my grandmother's funeral almost 15 years ago. He was my father's older brother, so dad is taking it kind of hard. It's always tough hearing your father cry over the phone.
Last Thursday, we did a dinner celebrating Senior BBQ Month at the West Warwick Senior Center and fed over 200 people. (And by we, I mean Morgan did all the work and me and Alex shared the credit.) I am writing an article about it to go in a monthly BBQ magazine in December, so I'll post an excerpt here when it is complete.
Jake is huge. He went to the Doc this week and his is 30" long and 24lbs. Did I mention that he is 7 months old? I'll be posting more pics soon.
I don't know exactly what happened to all of my favorite teams, but I think that it is safe to say it's going to be a long winter. Florida State is 4-4 and just lost to Maryland. Freaking Maryland? The Jets lost yesterday, but have been surprisingly entertaining to watch. And my beloved Flyers? They are the worst team in the NHL, they fired their coach, and their GM "retired". For a huge sports fan like me, this is all very depressing.
I was sick all last week, and I am still fighting this damn cold off. It might be time to get to the doctor.
If you had boxer Trevor Berbick, pitcher Joe Niekro and Celtics legend Red Auerbach as the trifecta in this week's sports dead pool, congratulations, you win!

That is all for now. I will update again later.
Monday, October 16, 2006
Flounder, c.1988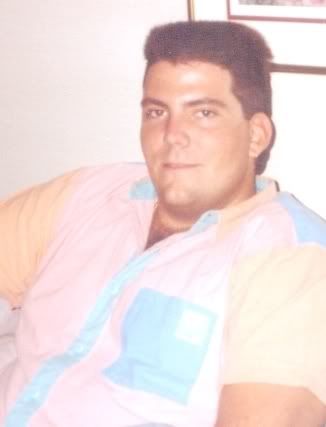 My old roommate from FSU googled his name and found my blog. I had listed his full name in a
meme
as my first roommate. He requested that I take his last name down, and he sent me this picture from the first few weeks of school. I cropped him out of it to preserve his anonymity.
A few quick observations.
Check out that Brian Bosworth doo!
Not one earring in my left ear, but two!
The dreaded Jams campshirt!
Nineteen years old already a ridiculously hairy chest!
Damn I was good looking!
Oh how I miss the '80's!!
Friday, October 13, 2006
Gussy - Part Two
If you haven't done so already, please read yesterday's post for a little background info.
We arrived at the hospital about 6:45 Tuesday night and met with Deb and Gussy in the family room outside the ICU. Deb was there for the second part of her 24-hour test where they determine whether she and Brian are ready to care for Gussy at home. They have been training for the past six weeks on how to set up and maintain everything that she needs on a daily basis. I'll spare you the details, but you can imagine that it is a lot of work.
We brought Gussy a couple of gifts that she seemed to like a lot and we talked with Deb for a little bit. Then another family came into the room with a panicked look on their faces. Deb recognized them immediately as their 2-year old daughter Michala had just left the hospital a few days before. Deb told us that their child had some disease that caused seizures, and that they were trying to get her medication adjusted when she was in the last time.
The little girl's uncle Pete told us that she had stopped breathing in the lobby, and that the doctors revived her and were attending to her. He was in remarkably good spirits considering the situation, I assume because this had become routine for them.
Rushing a child to the hospital had become routine.
Pete and I talked a bit and he eventually looked at my son and asked, "What's wrong with him?"
"Nothing," I said. "We're just visiting Deb and Gussy."
That's when it hit me. There is NOTHING wrong with my son. That is a little fact that I somehow overlook every single day. He is perfectly healthy, happy and thriving. What an incredible paradigm shift! I also started feeling a little guilty about that, but that was replaced with feeling blessed.
A few minutes later, the nurse came and brought the family in to see Michala. She had stabilized, but they were going to keep her for the night.
Through our whole visit, Jake sat quietly in his stroller, often reaching out to touch Gussy's hand. He was so good that I wasn't the least bit surprised he screamed in the car for the first ten minutes of our trip home.
We left around 8:15 and headed back home. I realized as I was walking out to the car that not every child that comes into Hasbro leaves alive. I thought about the pain that a person must feel to lose a child, and I couldn't imagine anything worse.
And again, I felt blessed.
Gussy will be going home next week with Deb and Brian. They both completed the training and passed the test. They had to move their bedroom furniture into the smaller room in their house so they could use their room for Gussy. All of the equipment that they need wouldn't fit in any other room.
These are two of our friends that go to our church and live in Rhode Island. All of these friends are the reason that we are moving there soon.
BTW – this is my 100th post.
Thursday, October 12, 2006
Gussy
I had fully intended to post a little more frequently, but things have been really crazy lately. In short, I made an offer on a house in Rhode Island and now need to get my house ready for sale by November 1st. I'm putting on a new roof, framing in two rooms in the basement, painting the entire house inside and out, laying tile, and doing some landscaping. Thank God I've got some good friends that work for barbecue! I'm sure that I will be posting some before and after shots over the coming weeks.

Anyway, I had a great experience this week that I need to share. On Tuesday night, we went to visit a friend in the hospital. Now I normally don't like doing that, and what made matters worse was that she was at Hasbro Children's Hospital.

Our friends Brian and Deb decided last year to provide foster care for a child with the intention of adopting one. They organized their house and their lives to be able to care for a child as soon as their training was complete. In December, 14 month-old Augusta came into their lives. We call her Gussy.

She is as cute a little girl as you have ever seen, and Brian and Deb just love her. Things were going great and all indications were that her mother's parental rights were going to be terminated around Christmas of this year. That would open the door for them to adopt her.

Then in August, Gussy started having some motor skill problems. She quit talking and started crawling rather than walking. The knew something was wrong, so they took her to the doctor.

Gussy had a brain tumor the size of an apple, and they rushed her into surgery. They got most of it out, but that was just the beginning of her treatment. She has had CAT scans, MRIs, PET scans and dozens of blood tests. She has undergone several surgeries, radiation treatments and hours of rehab. She was in an induced coma while things healed a bit. She has a shunt in her skull to drain fluid from her brain and a tracheotomy for breathing. She can not talk or eat and has a feeding tube sustaining her.

She has been living in the ICU for 9 weeks now, and she celebrated her second birthday there just last Friday.

And yet, she keeps smiling and clowning around like any other two year-old would. She constantly surpasses the doctor's expectations when they take her off the ventilator and have her walk.

The doctors say this is nothing short of a miracle. They gave her a 30% chance of surviving the first surgery and initially thought that she would have trouble regaining any of her motor skills. Now they expect her to make nearly a full recovery over time.

And whether you believe in God or not, I can tell you that I believe her recovery is the direct result of the power of prayer. Our entire 600 member church has been praying for this little girl since day one, and she has come through better than anyone could have imagined.

I will write more about our visit tomorrow. I just wanted you to have the background info.

Monday, October 02, 2006
Weekend Update
Here are some highlights from what was a very eventful weekend in and around the Delta House:

I got a little crazy with the power washer again. I don't know what it is with that thing, but I get it going and I want to wash everything. This time it was the patio furniture and swing, then the inside of the gazebo. They all came out looking like they were new. Maybe one day I will actually use it on my car.

My parents, sister and niece showed up on Saturday with a ton of food and drinks for the BBQ. We were expecting 35-40 people, but only around 25 made it. I'm actually quite happy about that because we have meatballs, sausage and peppers, and pasta salad to munch on all week.

I cooked two pork butts and three dozen wings in the smoker this weekend, and they all came out great. One thing does make me curious, though. I seasoned both pork butts and put them on the grill at the same time in the same general part of the smoker. I basted them equally and cooked them exactly the same, but one came out a little tough. The other one fell apart as I was trying to pull it out. How is that possible?

Big, big props go out to my boys Morgan and Alex for taking home some hardware at the Cape Cod Classic. I was unable to go this weekend, but the rest of the Big Boned Barbecue team kicked some ass. They took home a second place finish in beef brisket, and first place finishes in chicken and beef kabobs.

My son is smart. I mean really, really smart. We have been trying to get him to crawl by giving him some belly time on a blanket on the floor, and placing his toys at the other end of the blanket. Well the little genius figured out quickly that he could pull the blanket with the toys on it to him and he would not need to crawl at all. I'm so proud that he figured out how to be lazy so early in life.

And now for the gratuitous picture of the little man…
Subscribe to Posts [Atom]